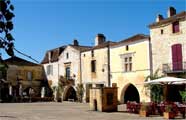 A lot of villages in Perigord are well-known for their beauty and authenticity. Everything there is charming, from the stones colour to the friendliness and welcome of the locals and the natural surroundings beauty that changes with each season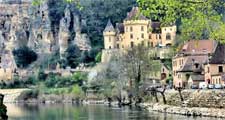 Some villages have been classified amongst "the most beautiful villages in France".
Lovers of beautiful stones will be delighted strolling by Sarlat picturesque narrow streets whose vast majority are classified historical heritage buildings including the iconic Maison de la Boétie.
In Beynac, the enlacement of medieval, gothic and renaissance architecture is superb by day and stunning by night when the soft light reveals the houses blond colour. A city of great historical wealth where every passage way, every stone has a story to tell. Not to be missed is the 15th of August fireworks celebrations..
Belvès: In this authentic medieval site, the stone paved streets are animated by the Saturday morning market where you can discover local produces.
Perigueux, capital of Perigord will allow you to explore 2000 years of history : from the ancient Gallo-roman City of Vesunna to the heart of the Renaissance medieval city, it gathers 39 historical heritage classified buildings in one of France largest protected precinct.
Since 2003, Perigueux's ancient city hosts a new museum : the Gallo-Roman site museum Vesunna signed by the architect Jean Nouvel.