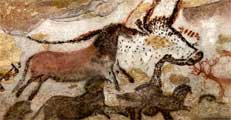 The Vezere valley is well known for its UNESCO classified World Heritage prehistoric sites. The most renown is the Lascaux cave but there are dozens more to discover and the fantastic prehistoric museum in Les Eyzies is a must see.
The Lascaux cave in Montignac is no longer open to the public but an impressive replicate is available for all to see and is a not to be missed experience.
A high concentration of famous similar sites in the area surrounding the village of Les Eyzies de Tayac is an illustration of the abundance of prehistoric sites in the Dordogne Valley. Other not to be missed visits include site such as Font de Gaume cave, Bara-bahau, les Combarelles , l'Abri du Poisson or the Rouffignac St Cernin Cave..
The National Prehistoric Museum in the heart of the Vezere is supported by the ongoing research for archeologic sites. As a result this museum exhibit the largest collection of Palaeolithic pieces in France and has been doing so since 2004.