The Castles are the Perigord Noir second jewel. Also known as the county of one thousand and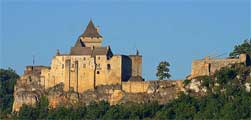 one castle, the Perigord Noir castles and country side have been the backdrop of many well-known movies such as Joanne of Arc.
Beynac and Castelnaud castles are famous worldwide and the Perigord host a large variety of architectural styles dating from the stern Middle Ages to the opulent Renaissance. Their carved stones, impressive donjons and fortified towers harmoniously merge into the sites natural beauty.
Not to be missed are the following history loaded sites visits: :