The Perigord offers natural and magnificent surroundings that encourages a wide variety of activities such as walking, horse riding, cycling, rock climbing, potholing, river canoeing, ancient style barge or caravan river descent and air ballooning.
In Siorac and its surroundings you will find almost everywhere canoe hire places, mountain bikes and road bikes hire and a variety of guided walking tours to discover the area
HIKING COUNTRY
Hiking in Dordogne
By foot: There are about 1130km of walking tracks (GR) in Perigord :

A track towards Saint Jacques de Compostelle,
The GR36 ( walking Track) follows the prehistoric sites along the Vezere river valley.
5600km of circular walking tracks.
Cycling: Most track are open to mountain bikes (VTT)
For the cyclist enthusiast, the Perigord offers 28 Cycling tracks on the road covering more than 2000km.
Horse Riding: 900km of marked riding tracks with regular stops and alts
CANOEING and KAYAKING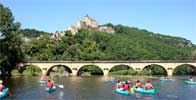 A canoeing or kayaking ride is hard to resist during the beautiful summer day in Perigord.
Water play and heritage discovery at the foot of the Dordogne or the Vézère cliffs are a real delight to share with friends or family..
Over 60 hire places will be waiting for you from Easter to October along France longest river routes
GOLF

From beginners to advanced, golfers will find what they are looking for in Périgord
ADVENTURE ROUTE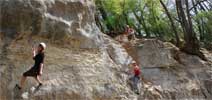 Go for a walk in the shade of centenary oak trees !
LEISURE PARKS AND AQUATIC PARKS

Water play delights big and small. The leisure parks offer relaxing and refreshing activities.
At étang du Bos : 7 hectars Leisure park with fishing ponds, swimming pool and 500 square metres paddling pool aqua park and 4 Water Slides
Jacquou Parc : Attraction park with swimming pool, aqua park and rides
VOL EN MONTGOLFIÈRE


Discover our beautiful region from the sky in the quiet of a hot air balloon basket. The castles are very rarely seen from above, you will be enchanted by the colour explosion.